TEHRAN- Leader of the Islamic Revolution Ayatollah Seyed Ali Khamenei endorsed President Mahmoud Ahmadinejad for his second term in office.
Ahmadinejad was declared the victor of the June 12 election with almost two-thirds of the vote.

Heads of the three branches of the government, Secretary of the Guardian Council, the top legislative body, Ayatollah Ahmad Jannati, Secretary of the Expediency Council Mohsen Rezaei and a number of members of the Assembly of Experts and the Parliament, the Cabinet and foreign ambassadors in Tehran attended the ceremony held on Monday.

Based on Article 110 of Iran's Constitution the President has to receive the Leader's approval, press TV reported.

Ahmadinejad will be sworn in as President on Wednesday in another ceremony in the Parliament. He will then have two weeks to introduce his cabinet to law-makers for their approval.
Source :FNA
August 03/09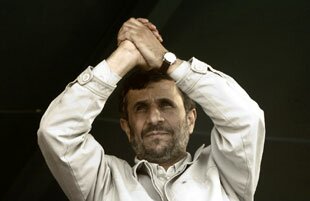 After two month of vigorous campaign,
Mehmaoud Ahmadinejad began his
second term in office today
HAMSAYEH.NET


Disclaimer: Opinions expressed on this site are solely Hamsayeh.Netís own and do not represent any official institutionsí, bodiesí, organizationsí etc. Similarly, Hamsayeh.Net would not be responsible for any other opinions that may be expressed therein by other sources through direct or indirect quotations.