Gloria La Rivera is a member of the Socialism and Liberation Party of the United States and she was the party's vice presidential candidate in 1984, 1988, 1996 and 2000.
According to La Rivera in all likelihood, Rafael Correa's decision to cancel US military presence in Ecuador had upset the US. Washington was trying to renew the lease of a military base in Ecuadorian city of Manta, only to be rebuffed by grassroots administration of Rafael Correa, which has sought to rid the Latin American nation of US meddling in the region.
Ecuador is an active member of ALBA, a Latin American security and economic pact that seeks an alternative approach to trade and cooperation amongst progressive Latin American nations.
La Rivera told FARS, US military uses its military presence in that region as a justification for combating drug and mafia cartels, but in fact it seeks to undermine progressive governments in Venezuela, Ecuador, Cuba, Nicaragua, Bolivia and others that counter US influence.
Certain right-wing opponents of Rafael Correa organized the coup attempt last Thursday. They used elements within the country's police force to stage violent protests against the government. The Ecuadorian Army, however, declared full allegiance with the people and president of Ecuador, right after violent protest engulfed Quito and other cities. Tens of thousands of people in Quito the capital city, took to the streets in support of Correa.
Yesterday, Ecuador's police chief delivered his resignation over the incident. Venezuelan Vice President Elias Jaua also blamed the United States for the coup. He said, 'that was another coup from the US laboratory.'
Following the coup in Ecuador, Venezuelan President Hugo Chavez reiterated his country's support for the people and president of Ecuador. An official statement released by Venezuelan Foreign Ministry, yesterday, read:
'A few minutes ago President Hugo Chavez Frias talked with President Rafael Correa, who is being held in the National Police hospital in Quito. President Correa confirmed that what is taking place is a coup attempt, given the insubordination by a section of the National Police towards the authorities and the law.
Commander Hugo Chavez expressed his support for the constitutional president of our sister, the Republic of Ecuador, and condemned, in the name of the Venezuelan people and the Bolivarian Alliance of the People of Our America (ALBA), this attack against the constitution and the people of Ecuador.'
Coup Attempt Against Rafael Correa
IN PICTURES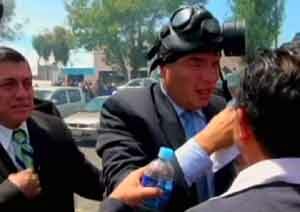 Tear gas fired directly at the President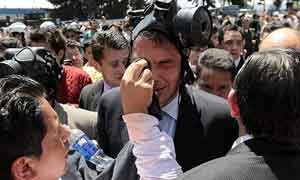 Rafael Correa is being attended by his assistants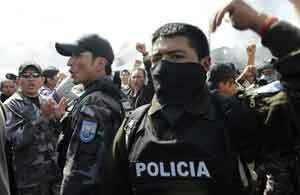 Some elements within the police stage violent protests in Quito and other major cities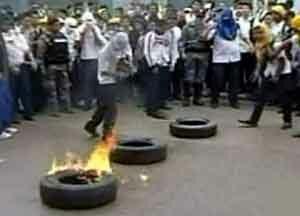 Protestors burn tires in streets of the capital, Quito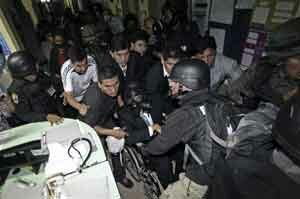 Rafael Correa is being rescued by troops from a hospital he was kept for several hours