Iran exported 7.4 million tons of petrochemicals worth $4 billion in the first six months of the Iranian Calendar year beginning March 21st.
October 08, 2010 (Hamsayeh.Net) - Iranís exports of petrochemical products reached $4 billion in the first six months of the Iranian calendar year starting March 21 each year.
The country exported 7.4 million tons of petrochemical products including Methanol, propane and butane, urea, ethylene and sulfur to international market. The countryís major trading partners are China, Japan, Turkey and UAE.
Meanwhile Iranís annual Industry Exhibition opened last Wednesday at Tehran permanent exhibition ground. The 8th International Industry Exhibition (TIIE2010) is annual event attracting countries around the world. This year Turkey, Germany, Malaysia, Romania, India, UK, France, Bulgaria, China, Lebanon, Malaysia, Taiwan, Austria, Denmark, Netherlands, UAE, Italy, Japan and Romania were among a host of other foreign nations participating this yearís event, which would run until October 9th.
Foreign and domestic companies specializing in Agriculture, Automotive, Iron and Steel, Machines and Equipments, Electronic and Electrical Equipment, Medical, Tools and Devices, Aviation and Navigation, Chemicals and Machineries, Environment, Mines and Minerals are presenting their latest in technology and services at this yearís event.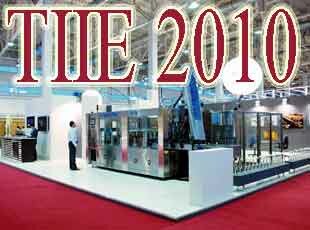 The 8th International Industry Exhibition - Tehran