The organization (Amnesty International) maintains that Abu-Jamal's original trial, which was irredeemably tainted by politics and race, failed to meet international fair trial standards.
November 22, 2010 (Hamsayeh.Net) - Amnesty International has called on the highly corrupt US judicial establishment to respect the rule of law allowing a new trial instead of the highly questionable reinstatement of a previously upturned death penalty for journalist Mumia Abu-Jamal.
Abu-Jamal is charged with murder of a lighter skin color police officer, a charge completely denied by Mumia himself and all the evidence on the ground. He has served many years in various detention centers. A US court had already annulled the execution ruling but then again under widespread corruption existing within the North American country's judicial system, a new death penalty seems to have been issued once again.
Today universally considered the worst human rights violators, the United States boasts having the world's largest incarcerated population as compared to all other countries including vastly more populated India and China. The level of violence across the United States is simply staggering. It makes the North American nation an absolute hell on earth for decent people trying to lead a normal existence.
The following is a statement by Laura Moye of Amnesty International urging a new trial in the case of Mumia Abu-Jamal:
WASHINGTON - November 9 - 2010

"Re-imposing the death penalty would be intolerable. Mumia Abu-Jamal should receive a new trial, not a new death sentence.

"Serious questions about fairness in Mumia Abu-Jamal's case remain unanswered. While Amnesty International does not take a position on guilt or innocence, the organization maintains that Abu-Jamal's original trial, which was irredeemably tainted by politics and race, failed to meet international fair trial standards.

"Among myriad concerns surrounding this case: Abu-Jamal had inadequate defense representation at trial and during the sentencing phase. Eleven potential African American jurors were dismissed. The close political relationship between the Fraternal Order of Police and the elected Pennsylvania judiciary was inappropriate. The judge, who had close political ties to law enforcement, was openly hostile to the defense.

"These and other concerns have not been addressed. Justice demands a new trial. The state of Pennsylvania should turn its back on the irreversible and broken death penalty system."

We are people from across the world standing up for humanity and human rights. Our purpose is to protect people wherever justice,
freedom, truth and dignity are denied. We investigate and expose
abuses, educate and mobilize the public, and help transform societies to create a safer, more just world.

Amnesty International - USA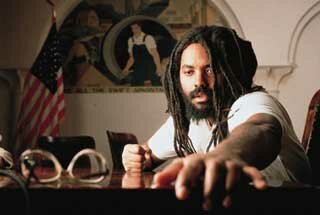 Internationally renowned journalist
Mumia Abu-Jamal