MESR (IRAN)
CAMEL RIDING
Adventure
BY: Arash Hamsayeh.Net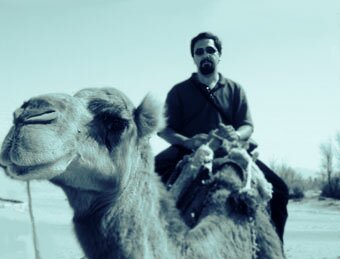 Arash with his favorite camel
After approximately 6 hours drive through the
hottest, most barren spot on earth, my friend Ehsan and I feel no exhaustion at all. We take a break; indeed nothing is more refreshing than a cup of Ahmad tea.
A few minutes later we hit the newly constructed road to Khur and Biabanak once again, almost mesmerized looking at this wide span of desert with gently rising hills all around us. Here we see a water reservoir in the most desolated of all places. And there a triangular road sign warns drivers to beware of wandering camels that may cross the road.
Ehsan
The route we follow is supposed to take us to Mesr village, which is famous for its thriving camel ride tours. It was dark when we entered a wide track leading to Mesr. We had not seen a car for the last 200 kilometres and the only source of light was the carís headlights.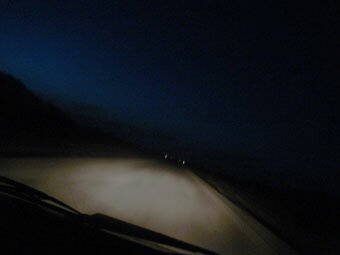 Joys of driving through the desert
As soon as we arrived in Mesr we would be looking for a man named Ali. Hopefully, he is going to provide us some food and a place to stay over night. Finding Ali wasnít very difficult in such small place. We saw him sitting on a wooden bed outside his humble village home.
Ali was an accommodating man who seemed to have had plenty of experience living in remote areas; also quite knowledgeable about camels. As itís customary with most villagers he greeted us with an open heart and ushered us to our room. He then brought us a glass of musk willow [1] syrup as an appetizer before each us devoured a delicious Kabab for dinner.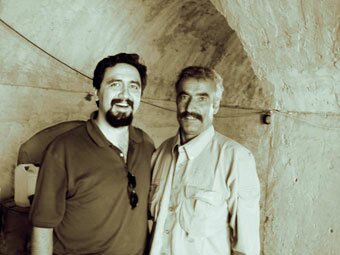 Arash and Ali
Oh, what great joy we experienced after the dinner as Ali was telling us his memories, unique encounters with camels and how he had come to love these creatures since growing up in this god forsaken village. He told us about the camelís psychology, its inner characteristics.
We became more and more enthusiastic to hit the desert sand riding on camelís back. It was now time to sleep but tomorrow morning we would do our first camel riding adventure over the hot and smooth surface of this sandy desert Ė ĎOh god, will tomorrow ever come,í I said to myself.
Early in the morning, Ali entered our room carrying a huge paten full of tasty dairy products, produced locally, complete with fresh vegetables and tea. What a breakfast!
Soon after eating breakfast we began to discover the village. It was so small and seemed abandoned at first. I was thinking to myself why should anybody come here to have fun when all of a sudden heard this weird hushing sound roaring behind me. I turned back and looked over my shoulder and said, Ď oh my gush, there they are, camels.í I must confess that in my wildest dreams I never pictured a camel as huge as the one that was present before my eyes at that time, I bet no one else did either.
The camel was so tall that it was impossible to jump on its back without a ladder. I canít tell how naÔve I had been by picturing a Giraffe or an elephant in my little brain until I saw a Camel.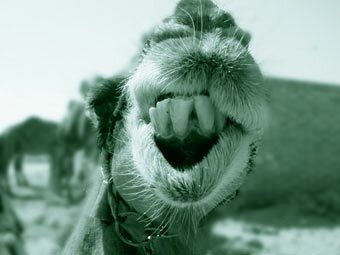 Camel posing in front of camera
Ehsan who once had 13 camels of his own in Ghehi village didnít seem so surprised or scared. He told me to show some courage as he dexterously sat down a smaller camel and quickly jumped on its back.
Fortunately, Ali arrived and made the giant sit down so even I could climb on a camels back. I slowly picked up my trembling steps towards the behemoth as it was looking at me face to face with doubt and pessimism. I finally made it over to its back when all of a sudden it made a roar that sounded quite like a big OK to me and there it was our two-seater caravan ready to hit the desert.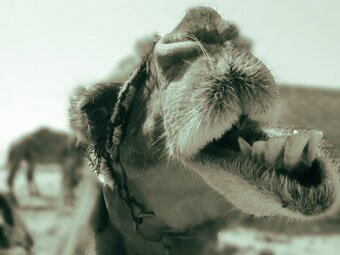 A new pose
Soon we found ourselves in the middle of desert looking over the horizon where only rising sand dunes were visible. If it werenít for Aliís son who happened to be our tour leader, our two-sitter caravan surely never would have been able to find its way back.
Enjoying the ride, I thought about what Ali was telling us the night before. It turns out that a camel is quite capable of turning its neck around a full 180 degrees and gorge on thorns while itís busy running at the same time. There has never been an instant when a camel ever lost its track when doing these two things simultaneously. I myself can never concentrate on two things at the same Time.
And who could ever believe that this long-necked creature with that stupid look on his face could actually read the stars and develop emotional ties with his homeland. A camel takes advantage of celestial bodies to position itself just like using a precision GPS system. Also a normal camel should always escape if it happens that someone tries to take it away from its familiar surroundings. What a Creature!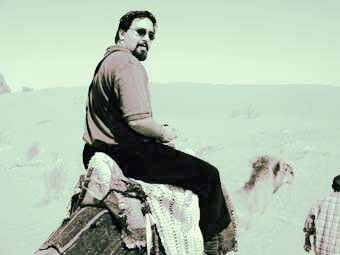 Riding through the desert
After a two-hour ride coming across smooth sand we decided to take a break and enjoy the sunbath. I donít know how to describe it, but you should experience that for yourself. All I can say is that it was incredible.
It was around 4 PM when we were close to the village but surprised to see a big crowd had gathered in the village as we moved in closer.There were now 4 buses parked in the village with many young boys and girls joyfully moving around. Some carried telescopes; others carried guitars and musical instruments with them. It seemed as if they had a rendezvous with extraterrestrial creatures from utter space and that they had arranged a musical piece to share with them that night.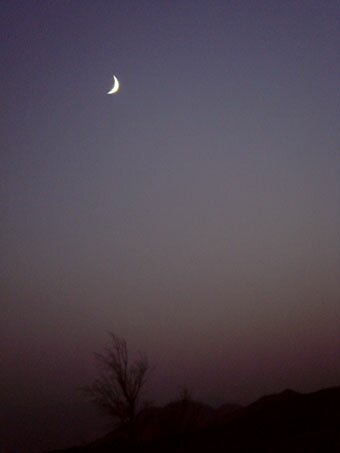 Soon the sky will be covered with millions of stars
[1] Ė A vigorous, fast growing, bushy, deciduous shrub or small tree, with purplish-red, thick branches. Grows to 12' tall and 15' wide. Leaves are oblong, serrated, deep green above, underside hairy and glaucous, up to 6" long. Catkins are fragrant, gray, males to 1 1/2" long with yellow anthers, females to 3" long. The shoots of this tree can be used in dried arrangements. A very striking tree, especially in winter, so give it a prominent place in the garden. Native to Turkey, Iraq, Iran, Armenia, and Afghanistan.