National Iranian Antiquity Museum
The National Museum of Iran is an archaeological and historical museum in central Tehran. This museum consists of three floors and a huge storage area. Its architecture was derived from Sassanian era and particularly the entrance arch is a complete replica. This building houses ancient Persian antiquities including pottery vessels, metal objects, books, coins etc. The museum was inaugurated in 1937.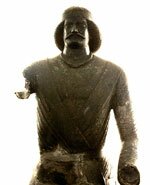 Parthian figure, possibly General Surena
Luristan - Iran
Antiquities are divided into several main categories of Pre-historic, pre-Islamic and Islamic periods.
In antiquity the Persian Empire developed into a multinational empire, encompassing an enormous amount of territory. The Achaemenian king Cyrus the Great was able to expand his territory and establish a new order throughout the entire Middle East at an early stage, making the Achaemenian dynasty (558-330 B.C.) the most powerful royal line of his time.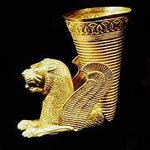 Lion rhyton, 550-450 B.C.
Ekbatana, West-Central Iran
Gold, 22,3 cm/ ō 19,5 cm

Through Alexander the Greatís conquest of Persia and the subsequent Seleucid rule (312 - ca. 139/38 B.C.) Greek influence in Persian art became manifest, continuing into the Arsarcid dynasty (247 B.C.-224 A.D.). This period of Iranian art history, which is difficult for us to comprehend today, will be represented by a selection of sculptures, glass and ceramics. Once the Sassanid dynasty (224-621 A.C.) became established, there was a conscious attempt to return to the great cultural tradition that flourished during the Achaemenian dynasty.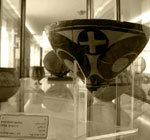 Elamite painted vessel
from 4th millennium B.C.
The most notable pieces of diverse artwork produced during the Sassanid period are magnificently decorated silver bowls. Objects made of silver; ceramic and glass from the early Islamic period are the focal point of the museum.
Not only do they exhibit Sassanid influence but also original elements in form and decoration, which at a later stage culminate into an independent Islamic pictorial language. Islamic period arts and antiquities are housed in a separate building which has a huge collection of Persian miniatures, manuscripts and inlaid craft works.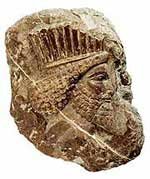 Relief Head of a Bearded Man
Persepolis - Reign of Darius
(522-486 BC)
An elaborately decorated Koran parchment manuscript from the 9th/10th century is part of the collection, symbolizing the beginning of profound cultural changes, encompassing the region of ancient Iran.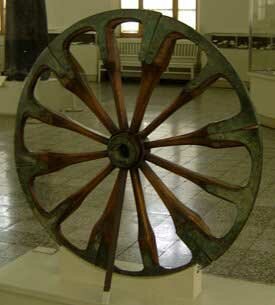 AN ANCIENT WOODEN WHEEL WITH SPOKES,
STILL IN EXCELLENT CONDITION IS ON
DISPLAY AT IRAN'S NATIONAL ANTIQUITY
MUSEUM.
Article by : Masood Kazerani
Hamsayeh.net
May 18/09